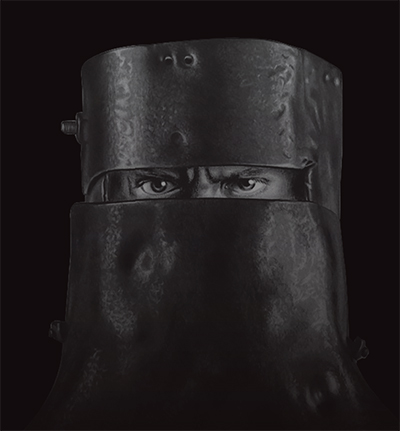 Some of you may have heard of the famous bushranger Ned Kelly, one of Australia's folk heros. Ned's Mother, Ellen Quinn was from Co. Antrim, and arrived in Port Phillip, Melbourne in 1841. Ned's father, John was from Co. Tipperary, and was transported in 1841 to prison in Van Diemen's Land, Tasmania for stealing two pigs! They got married and had 8 children together including Australia's most famous Bushranger.
Ned grew up with the tales of bushrangers and knew the tale of Ben Hall well. At the age of 14, Ned was arrested for stealing 10 shillings from a Chinese man and reportedly to have announced that he 'was going to be a bushranger'. Ned was sent as a kind of apprentice bush worker to Harry Power, one of the last of the convicts transported to Van Dieman's Land in 1842 for stealing a pair of shoes, who took to bushranging after escaping from Pentridge Gaol. A year later, Kelly was charged with robbery under arms on one occasion when he was holding Power's horse. He was freed for lack of evidence, although a few months later has was back in the lockup for assault. During this time, Ned also gained some notoriety as the 'champion' boxer in the Beechworth district.
Ned's real troubles with the police began when his mother was arrested for the shooting of Constable Fitzpatrick, who was later dismissed from the police force as 'a liar and a larrikin'. Fitzpatrick was in charge of the Greta Police Station for a few days and had been warned to stay away from the Kellys – a warning he ignored, boasting in several hotels that he would 'fix the Greta mob'.
Fitzpatrick headed out to arrest Dan Kelly for alleged horse stealing; Dan having just returned home from gaol. At the hut, Fitzpatrick assaulted Kate, Ned's older sister. During this affray, Ellen Kelly shot Fitzpatrick in the wrist but because she wanted to avoid any repercussions, tended Fitzpatrick's wounds, fed him, gave him something to drink and sent him on his way, with an understanding that no more would be said.
Fitzpatrick returned to the police station with a different story which involved being hit on the head with a shovel, an ambush by Kelly sympathisers and being shot at three times by Ned Kelly. Ned Kelly was 400 miles away at the time. Ellen Kelly was sentenced by Judge Redmond Barry to three years in gaol, with a breastfeeding infant, for attempted murder of Constable Fitzpatrick.
While Ned Kelly did not try to break into Beechworth gaol to rescue his mother as planned, he offered an ultimatum to the government of the day:
…to give those people who are suffering innocence, justice and liberty. if not I will be compelled to show some colonial stratagems which will open the eyes of not only the Victoria Police and inhabitants but also the whole British Army…
(Jerilderie Letter, p. 19)
Ned was so enraged that he made a hide-out, with his brother Dan and their mates Joe Byrne and Steve Hart, at the head of the King River, a virtually impenetrable place where Harry Power had long eluded escape. Ned Kelly used this hide-out to his advantage, aided by sympathetic 'informers', to confirm who made their way into the Wombat Ranges.
Ned was furious about the use of the Felons Apprehension Act and the use of black trackers brought in from Queensland.
The police were determined to hunt down the Kelly Gang, and in October 1878 a party of four police with heavy arsenal were sent out from Mansfield. Their camp at Stringybark Creek received a surprise visit from the Kellys, with Ned commanding 'Bail up! Throw up your arms'. Constable McIntyre surrendered but Constable Lonigan went for his revolver, before being shot dead by Ned Kelly. When the other two police appeared and, Sergeant Kennedy reached for his revolver, he was mortally wounded. Constable Scanlon was then killed trying to drag his rifle from its holster.
The Kelly Gang were declared outlaws after raids on the National Bank at Euroa and Faithful Creek station in December 1878. The sum of 8000 was put on their collective heads for robbery and murder, issued by the New South Wales Colonial Secretary, Henry Parkes. A further 4000 was added by the Government of Victoria. In February 1879, Ned and his Gang bailed up the Bank of New South Wales at Jerilderie via the adjoining Royal Hotel.
From here, Ned dictated the now famous Jerilderie Letter, an essay of over 7,500 words in his attempt to set the record straight.
In June 1880, Joe Byrne and Dan Kelly visited a close friend, Aaron Sherritt, who had colluded with police. Four policemen were hiding in Sherritt's hut and, after Sherritt was shot by Byrne for betraying Kelly, the police remained hiding, using the women in the hut as hostages. The Kelly's shooting of Sherritt made the police redoubled their efforts to capture the Gang.
After more bank robberies, the Kelly Gang had their 'last stand' in the small town of Glenrowan, Victoria in 1880, where they took 60 hostages in a hotel. The Gang established a base at the Glenrowan Hotel, determined to fight it out with police when they came. Kelly planned to derail the expected train carrying the police, but this was prevented by a school teacher, let out of the hotel, who flagged the train to a halt. Led by Superintendent Hare and assisted by local Constable Bracken, the troopers attacked the Gang in the hotel. Superintendent Hare and other police officers were wounded when the Gang shot at the police. The townsfolk were allowed to leave the hotel when there was a lull in the fighting.
Ned Kelly was shot in the arm and thumb, and retreated to the bush, from where he hoped to attack police from behind. Knowing that the Felons Apprehension Act meant they could be shot, the Kelly Gang all wore suits of steel armour, made during the previous year. Despite this, Joe Byrne was shot in the groin and died. Dan Kelly and Steve Hart were shot dead, and the hotel was burned to the ground by the police.
As dawn broke, Ned Kelly, in his armour, approached the police from the rear and began shooting at them with his revolver, despite his wounds. After half an hour, he was shot in both unprotected legs. A wounded Ned was arrested and charged with the murder of a policeman. Ned Kelly was tried and convicted of the murder of Constable Lonigan at Stringybark Creek.
In gaol, Kelly wrote a long letter to the authorities demonstrating the discrimination against poor Irish settlers. Despite public protests, the judgement of Redmond Barry prevailed. Kelly spoke the immortal last words 'Such is life' and was hanged on 11th November 1880 at Melbourne Gaol.
Ned Kelly's final defiant stand against the Felons Apprehension Act and his pleas for justice to end discrimination against poor Irish settlers did end up opening the eyes of people. Ned Kelly in his armour came to symbolise a fight by a flawed hero, a convicted criminal, for 'justice and liberty' and 'innocent people'.