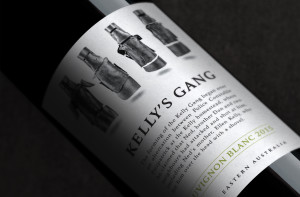 Kelly's Patch Wines have branched out their initial range of Kelly's Patch to develop an on trade exclusive variety under the title 'Kelly's Gang'.
Kelly's Patch, owned by Cabroso Wines, launched in 2011 with three entry level varietals and soon increased to a strong set of five offering; Chardonnay, Pinot Grigio, Sauvignon Blanc, Shiraz and Merlot.
The concept of Kelly's Gang was dreamt up by Jonny Callan, Managing Director of Cabroso Wines.  As an ontrade exclusive, the setting of enjoying a bottle of wine, is with friends, which Ned and his Gang did regularly,so the name 'Kelly's Gang' was an obvious choice for the brand extension. Ned Kelly's gang consisted of Ned's brother Dan, Steve Hart and Joe Byrne, all of Irish descent. They were the best of friends that shared some great, and then some terrible times together before going down in history as Australian Folk heros.
This brand extension 'Kelly's Gang' is available in two varietals, Sauvignon Blanc and Shiraz, two very popular grapes, which also feature in the original Kelly's Patch line up. This extension is showing the success of the Kelly's Patch original range both on and off trade as the brand is in demand at an entry level and the trade called for a step up which Kelly's Patch gladly delivered.
The Kelly's Patch range is widely available, click here for details http://kellyspatch.com/wheretobuy